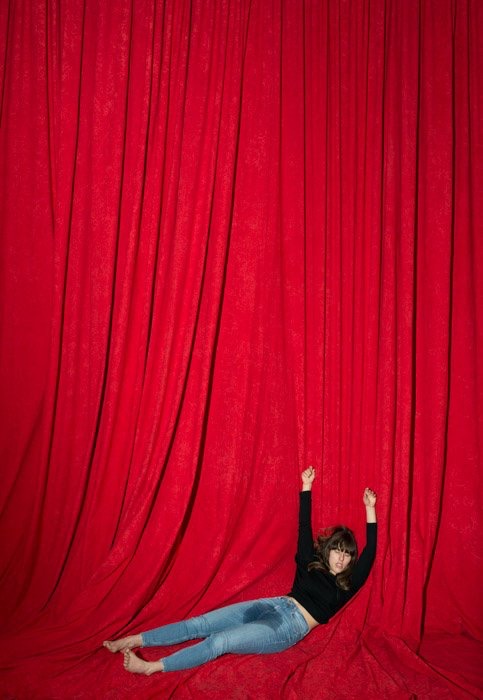 Synopsis & credits
"In the Blind Spot" takes the notion of letting go as it´s starting point and leads the body to the edge of collapse and utter surrendering. It strives to transform the supposed weakness of the spent body into something positive and celebrate it as the refusal of the achievement imperative,the fullness of its fragility revealing the unseen location of the non-resistant resistance. "In the Blind Spot" expounds a very physical movement language, extracting the usual limits of identity and (self) assertion by its very softness. With limitless non-aggression it reveals and provokes simultaneously. The performance radically puts the singular body as the centerpiece. As if under a magnifying glass, hidden insides are brought to light.
The performance "In the Blind Spot" belongs to the "Blind Spotting Performance Series" launched in 2014 by Margrét Sara Guðjónsdóttir. It is simultaneously the first part of Angela Schubot's 2015 solo trilogy "Körper ohne Macht" (Powerless Bodies).
Direction, Choreography, Costume, Set design: Margret Sara Guðjónsdóttir/Performer/choreography: Angela Schubot/ Music: Peter Rehberg/Light: Martin Beeretz/ Thanks to: Zohar Frank/Company management, PR: björn & björn. Photos: Benjakon/Co-production: Commissioned and produced by Angela Schubot with support from: Hauptstadtkulturfonds, Tanzfabrik Berlin, ada Studio, SOPHIENSÆLE, HAU Hebbel am Ufer, CDC Uzès Danse, Theater Freiburg, Schwankhalle Bremen and ImPulsTanz Wien. Co-produce by Margrét Sara Guðjónsdóttir with support from MDT Stockholm.
Reviews
A soft punch in the face against the performance requirements
" In the blind spot is one of the most interesting new pieces by Margret Sara Guðjónsdóttir.
The non-performing body can have an extra charge – that provocation in a targeted community, as a target for various projections or concentration levels of the audience's consciousness in a dance performance. All this and much more is available in the Icelandic choreographers Margrét Sara Guðjónsdóttirs consistently drilling work… she has stood out as one of the most interesting new artists presence to follow. The austere, minimalist and for both dancers and audience endurance demanding form is even more extreme than in previous work…deeply fascinating and scary… where physical transformation and social criticism go hand in hand. "In the blind spot" can be seen as an act of defiance, a soft punch in the face to contemporary ideals".
Anna Ångström, Svenska dagbladet, 12/04/2016
Link to view trailer 
Full performance – photos