SOFT TARGET (2010)
Synopsis & credits 
Choreographer Margret Sara Gudjonsdottir accompanied by dancer Johanna Chemnitz, music made by Peter Rehberg(PITA) and text composed from internet spam by Gordon Spragg, confront the idea of the "Self" in an attempt to tear down the fabric of what separates the subject from the gaze.
"Consider that there is nothing between us but a fleeting bundle of perceptions. In all eyes we want to be all things differently. I doubt your parents taught you last time I checked. With that in mind, consider this. How are you suppose to know what the right thing to say and do is?… then this is one of the best signs that there is. I think that you are a very interesting person. The opposite of love is simply complete and utter indifference. I presume this will come to you as a surprise, but as things unfold, we will know each other better. Because the truth is, whether you consider our methods ethical or not…  In other words, I know how you feel. You should also know…And now I'm going to get right to the point…" -Gordon Spragg
Concept/ direction/choreography: Margrét Sara Gudjónsdóttir/Performance/choreography: Johanna Chemnitz/Text: Gordon Spragg/Sound: Peter Rehberg/Photo:Tom Akinleminu/Co-production: The city funds of Reykjavik/ Ballhaus Ost Berlin, Reykjavik Dance Festival.
Reviews
Equally interesting and affecting is the Icelandic choreographer Margrét Sara Gudjonsdottir who created the solo Soft Target for the dancer Johanna Chemnitz. It begins in the thick darkness where a man's voice disturbs our minds with
nonsense. The dancer, dressed only in bra and shorts, exposes every muscle and twitch. Her eyes are closed at first her and she seems to shrink instinctively from something. The dancer tries to orient herself in both her own body and space, like an animal that is frightened out of his burrow and blinking against the light, to us who see her. The electronic sound is amplified to the pain threshold while the dancer switches with pressure between various movement fragments. She reflects in our eyes but is also trapped in it – a soft target. Soft Target is a consistent and thought-provoking unpleasant solo that leaves traces in the viewer's body and raises awareness of how we read of the environment.
Anna Angstrom, 22.05.2012
SvD Kultur Sweden
Effective and clever;"Soft Target" manages to reinvent the wheel
The incredibly simple concept behind the performance is intimidatingly effective, pure, clever and persistent… Soft Target is an exceptionally thought out piece both physiologically and psychological. Managing to be captivating as well challenging it is a true piece of art that transcends itself.
Örjan Abrahamsson 14.10.2012
Dagens Nyheter, Stockholm
Documentation

Variations on Closer (2012)
Synopsis & credits
In Variations on Closer different variations of closeness between an individual and his observers is investigated. The audience are challenged by 3 female performers, whom extensively conceal and reveal them to the limited perception of themselves. Offering them their expertise in manipulation and representation of performative stunts. Confusing, un arming and seducing the audience into their own disorienting reality. The observers and performers alike are offered a chance to renegotiate their feelings associated with living outside one's own body as well as living through the bodies of others and are confronted with the role of their own gaze and their ever shifting feelings of empathy, attraction, intimacy and alienation. The soundtrack was created by music maker Peter Rehberg (PITA).
Concept/direction/choreography: Margrét Sara Gudjónsdóttir/Performers/choreography: Laura Siegmund, Marie Ursin/Johanna Chemnitz, Angela Schubot/Sound: Peter Rehberg; original composed sound track by Peter Rehberg with an excerpt from an additional track titled Mannhattan/ Eagle Rock by Pocahaunted from the album Live From The New Age/Photo: Tom Akinleminu, painting by Marion Bataillard/Co-production: MDT Stockholm (SE), RAS kulturhus Sandnes(NO), Les Grandes Traversees festival Bordeaux (FR)/Residency support: WP Zimmer Antwerpen (BE), Sommer.bar –Tanz im august Berlin (GE), Barneys Crossing Cologne (GE)/Special thanks to: Sonia Franken, Eike Siegmund,  Anja Röttgerkamp, Andrea Lutz/Ashtanga Studio Berlin, Jared and Angela productions, jill Emerson(SMC), Gotische saal Berlin, Benjamin Schalike, Thomas Schaupp.
Reviews
"Choreographers have tried in a variety of ways to challenge the traditional relationship between spectator and performer since the radical re-workings of dance in the sixties. Icelandic choreographer Margrét Sara Guðjónsdóttir continues in the spirit of these liberating experiments with her piece,Variations on Closer. Her work features three highly individualistic looking women, minimalistic dance and experimental, electronic music by Peter Rehberg which becomes another distinct presence on stage. The performers confront the gaze of the audience and manage to expose each one of us as much as they expose themselves. Their powerful command of the gaze deflects ours and becomes a shield to protect their vulnerability…Variations on Closer is hard work. You are implicated in the performance, you cant hide in your seat. You dont get any closer to the protagonists. However it is effective in that it presents women performers who take control and empower themselves not through theatrical devices but through the gaze…The performers confront the gaze of the audience and manage to expose each one of us as much as they expose themselves. Their powerful command of the gaze deflects ours and becomes a shield to protect their vulnerability.
Josephine Leask,The Dance Insider, London, 3rd of October 2014
Documentation

Step Right To It (2013)
Synopsis & credits
The performance "Step Right To It" is an ode to alienation and its hyper personal physical internalization and external disorientation. Performers at the edge of the "stage" and under the pressure of the audience gaze and the magnifying effect of stage representation; sound, light, staging. They step to "it" within a self-imposed incapacity to do so. In this very space, which represents time more than space, where IT is supposed to "happen" "between" them and those who have paid to watch them What is about to appear is this latent territory, which could only appear in the vacuum of a construct, it is a result of the pressure and power of exposure and from the rejection of it. The exchange between movers and viewers leads to two synchronized journeys.
Concept, direction,choreography: Margrét Sara Guðjónsdóttir/Performers: Marie Ursin, Rodrigo Vilarinho, Louise Dahl and Annie Kay Dahlström/Set and Light design: Jens Sethzman/Sound editing: David Kiers, tracks: Mage by Nic Sarno, Fluro Black by ARP 101 & Elliott Yorke, KTL Tony/Producers: MDT theater Stockholm (SE), DOCH University of dance and circus in Stockholm (SE)/Photo: Jens Sethzman
Reviews
No flutter of an eyelid is accidental
"Step Right To It", by the Icelandic choreographer Margrét Sara Gudjónsdóttir. The four person choreography is minimalist and authoritative in front of its dark blue semi circular curtain. Everything is in slow motion. The performers – three women, one man dressed in everyday clothes – crawl on all fours, sometimes with a predatory elegance. They step out of the curtain and sink to the floor again and again, seeming as if they are about to faint or are in pain. They enter from the right, disappearing again to the left taking a very long time. Each tired flutter of the eyelid seems choreographed. Almost nothing happens, there is almost no variation, yet the timing is immaculate. A tense anticipation is built in which you await every change of lighting, music or personnel. Above all however, the 40 minute long "Step Right To It" shows a completely unique, wilful signature – all achieved with the least amount of original movement. There is a very special mixture, there is rigour and there is dramaturgy. That is also something not so easily copied.
Sylvia Staude , Frankfurter Rundschau 10.06.2014
Documentation

Blind Spotting (2014)
Synopsis &credits
Exhaustion as a diagnosis of our time, isolation as the means of choice – with an ensemble of eight dancers, Margrét Sara Guðjónsdóttir enters the blind spot in Blind Spotting in the incessant noise of everyday life. In impressive and at the same time disturbing images, they expose the vulnerability of the fragile bodies of our achievement-oriented society and sharpen the eye for power in its supposed weakness.
Who does not know the feeling of exhaustion in everyday life in the big city, the desire to withdraw and close oneself off from the manifold impressions? Demarcation is the keyword of our time. We have learned to reduce our perception to a minimum – and yet there are events and moments that penetrate our consciousness as if from nowhere and touch us.
Poetic, disturbing and uncanny at the same time, the ensemble of eight dancers penetrates to this blind spot of our perception and invites us to jointly grasp the fragile self in our overloaded bodies. Unsettled by the almost boundless empathy with others, this self begins to observe its own gaze and explore its perception. In a dense atmosphere, filled with intimidating intimacy that is hard to escape, the performers, together with their audience, try to sharpen the awareness of the individual presence of the counterpart and to assert a different, vulnerable and fragile body: a body that discovers its own strength in its vulnerability and openness.
Concept: Margrét Sara Guðjónsdóttir, Angela Schubot Direction/choreography, stage & costume design: Margrét Sara Guðjónsdóttir/Choreography/Performance: Louise Dahl, Annie Kay Dahlström, Catherine Jodoin, Angela Schubot, Laura Siegmund, Suet-Wan Tsang, Marie Ursin, Rodrigo Vilarinho/Music: Peter Rehberg/ Lighting design & set design: Andreas Harder/Dramaturgical consulting: Anja Röttgerkamp, Vincent Roumagnac, Thomas Schaupp/ Production management: Gabi Beier/Production staff & press: björn & björn/ Photography: David Kiers/ Film: Antoine Verbiése/ Funded by: Hauptstadtkulturfonds/In co-production with:Life Long Burning Cultural Programme of the European Union 2013-2018, The Cullberg Ballet, MDT Stockholm and with Wilderness dance as part of keðja supported by Culture Programme of the European Union, Nordic Culture Fund and Kultur Kontakt Nord and regional and national sponsors. Supported by Tanzfabrik Berlin and Advancing Performing Arts Project (APAP).
Reviews
"The quality is not just produced by that age old playing with the gaze. There is also a slowness, seemingly born of an endless exhaustion; the infernal silence from which Peter Rehberg's music is created and of course the quality is produced by the Icelandic choreographer Margrét Sara Gudjónsdóttir's movement art, like a puppet hanging from a string".
Arnd Wesemann, tanz, 08/2014
"Again and again we see exhausted bodies, retreating within themselves. There is hardly communication between the protagonists. Each one going their toilsome way. Everyone is exhausted. It is in this weakness of the human body where the choreographer searches for the body's strength and she succeeds, by parading this weakness, without any one secret, in the bright light […] Blind Spotting makes a mirror out of the public and out of the actors in which they mutually look at themselves for three quarters of an hour."
Aura Cumita, Neue Deutche presse, 16.06.2014
Documentation

Spotted (2014)
Synopsis & credits
In Spotted the bodies of the performers become overflowing containers. So oversaturated that they can no longer digest, handle, or decode the external information they receive. Everything pervades the body indiscriminately. Dazed and pervious, almost like a still life, the bodies pose questions of privacy, intimacy, alienation, and vulnerability. Spotted is an investigation of animate objects that cannot escape their existence. The performance portrays the grimaces of perfect individuality, the perversion of a world in which the winners shine with absence. 
The duet performance "Spotted" is born out of the performance "Blind Spotting", a performance with an original cast of 8 dancers which premiered at the Sophiensaile theater in Berlin in june 2014. The "Blind Spotting Performance Seri" includes at this point; "Blind Spotting", "Blind Spotting- film version" a film by Antoine Verbièse, the duet performance "Spotted", and the solo performance made for performer Angela Schubot "In the Blind Spot" (2015).
Direction/Choreography/ Concept/ Costumes: Margrét Sara Guðjónsdóttir/ Music: Peter Rehberg/Set Design: Margrét Sara Guðjónsdóttir, Andreas Harder/Light design: Björn Kuajara/Performed by: Louise Dahl, Marie Ursin/Production: Margrét Sara Guðjónsdóttir/Production management: Annie Kay Dahlström/Photography: David Kiers and Lasse Dahl/ Co-Production: Slingan: Atalante Gothenburg, Dansstationen Malmö, MDT/Thanks go to: Flutgraben Berlin Public and Private studio, Zohar Frank, Lasse Dahl.
Reviews  
And we wait: Andrew Edwards is both excruciatingly bored and enormously impressed by Margrét Sara Guðjónsdóttir's inertia-ridden show.
The design of the work is brutally effective: a very beautiful kind of ugliness presented to us with notable precision…Throughout, I was never entertained, never distracted, but only ever trying to distract myself from the work. These are some of the work's most impressive qualities, so well executed that my distractions failed time and again…what ensures SPOTTED is an engaging piece of work, and confirms that it contributes something new to this discourse, is the exceptional affective force it possesses. Not only does it articulate this quality of inertia, but it forces its audience into that state, or perhaps opens up a space in which that state, otherwise felt as an undercurrent or a dust, overwhelms you.
Andrew Edwards Exeunt Magazine, 06/05/2017
Breathtaking view of our times on exposure
"The Icelandic choreographer Margrét Sara Guðjónsdóttir, that resides in Berlin, works with phenomenal consistency. With lightness in execution, she builds to her account an unpleasant scene incorporating the gaze when working with space and time with a heart-stopping complexity evolving around themes such as identity, body and subject versus object (…)The compulsive vulnerability in the performance Spotted clings to the mind as an irritable yet great judgment of our time".
Anna Angström SvD Kultur, 24/11/2014
With minimalistic precision
This constant flow of information gushing over the non shielded human being comes to a point of no return/ a turning point which creates physical and psychological stress when the exploitation works as if it is integrated on a personal level in the non shielded human being. The dansers Louise Dahl and Marie Ursin give such a strong and impressive performance that it ́s hard to differentiate between the artistically crafted physical work and the bigger picture of the performance. It ́s simply all existing there together as one.
Ingela Brovik, Danstidningen, 03/12/2014
Documentation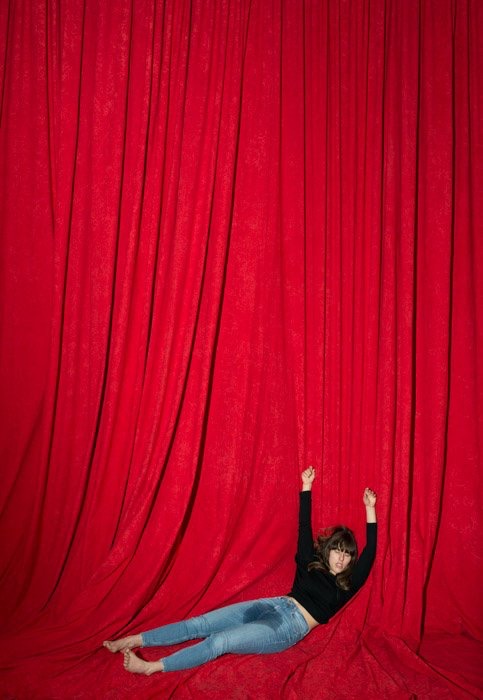 In the blind spot (2015)
Synopsis & credits
"In the Blind Spot" takes the notion of letting go as it´s starting point and leads the body to the edge of collapse and utter surrendering. It strives to transform the supposed weakness of the spent body into something positive and celebrate it as the refusal of the achievement imperative,the fullness of its fragility revealing the unseen location of the non-resistant resistance. "In the Blind Spot" expounds a very physical movement language, extracting the usual limits of identity and (self) assertion by its very softness. With limitless non-aggression it reveals and provokes simultaneously. The performance radically puts the singular body as the centerpiece. As if under a magnifying glass, hidden insides are brought to light.
The performance "In the Blind Spot" belongs to the "Blind Spotting Performance Series" launched in 2014 by Margrét Sara Guðjónsdóttir. It is simultaneously the first part of Angela Schubot's 2015 solo trilogy "Körper ohne Macht" (Powerless Bodies).
Direction, Choreography, Costume, Set design: Margret Sara Guðjónsdóttir/Performer/choreography: Angela Schubot/ Music: Peter Rehberg/Light: Martin Beeretz/ Thanks to: Zohar Frank/Company management, PR: björn & björn. Photos: Benjakon/Co-production: produced by Angela Schubot in collaboration with SOPHIENSÆLE, HAU Hebbel am Ufer, CDC Uzès Danse, Theater Freiburg, Schwankhalle Bremen and ImPulsTanz Wien, MDT Stockholm. Funded by the Hauptstadtkulturfonds. Supported by Tanzfabrik Berlin and ada Studio.
Reviews
A soft punch in the face against the performance requirements
" In the blind spot is one of the most interesting new pieces by Margret Sara Guðjónsdóttir.
The non-performing body can have an extra charge – that provocation in a targeted community, as a target for various projections or concentration levels of the audience's consciousness in a dance performance. All this and much more is available in the Icelandic choreographers Margrét Sara Guðjónsdóttirs consistently drilling work… she has stood out as one of the most interesting new artists presence to follow. The austere, minimalist and for both dancers and audience endurance demanding form is even more extreme than in previous work…deeply fascinating and scary… where physical transformation and social criticism go hand in hand. "In the blind spot" can be seen as an act of defiance, a soft punch in the face to contemporary ideals".
Anna Ångström, Svenska dagbladet, 12/04/2016
Documentation

Conspiracy Ceremony-HYPERSONIC STATES (2017)
Synopsis & credits
A symphony of pathologies, sentiments, and physical states originating in the personal emotional body are on display in this latest work by Icelandic choreographer Margrét Sara Gudjónsdóttir. Emotions rush through these bodies without filters. The viewer experiences extreme and at times painfully private states. Portraying the anonymous multitude, the five dancers are ceremonially surrendered to, and moved by, invisible forces, both political and energetic in nature, that are far greater than all of us. The Hyperstates form a corporeal language that serves as a doorway into the subconscious. This language is marked by an infinite presence that reveals and provokes in the same moment. It transfers itself into the bodies of the audience as they meet the performers with full intensity. Together, they explore and confront the inner landscape of the de-bordered body, offering up an alternative reality of physical pleasure and pain that comes with surrendering to the Hyperstates.
In Conspiracy Ceremony– Hypersonic States, Margrét Sara Guðjónsdóttir and her long-term artistic associates continue their in-depth research into a methodology that accesses physiological and emotional sub-worlds. Over a series of works (including the Blind Spotting Performance Series), she has developed a new genre of performative body language, and an original working method that directly informs her creative outcomes.
Concept, choreography, direction,costumes: Margrét Sara Guðjónsdóttir/ Choreography/Performance: Johanna Chemnitz, Catherine Jodoin, Laura Siegmund, Marie Topp, Suet-Wan Tsang/ Music: Peter Rehberg/ Light design: Martin Beeretz / Dramaturgical advice: Zeina Hanna/ Production management: Elena Krüskemper/ Photos: Jeanette Ginslov/Produced by Margrét Sara Guðjónsdóttir in co-production with: LÓKAL – Performing Arts Reykjavík and SOPHIENSÆLE. Founded by Senate Department for Culture and Europe.
Reviews
Internal emergencies
And it is true that something incredible happens in this "conspiratorial ceremony" in which Gudjónsdóttir involves five dancers, most often separately. Little movement, no interaction or claim of communication with the space or the public. The hyper-state is an internal affair. And yet …No one, probably, has ever been so successful in rhyming with a state of choreographic urgency. Many contemporary choreographers have, however, got down to work. Without much result. Feeling what is going on within the body or mind of an interpreter usually requires the viewer to have an acute divining ability.
The Conspiracy Ceremony changes the game. With her research on myofascial release and her personal approach to somatic practices, Margrét Sara Guðjónsdóttir has opened doors to the invisible and buried body memory. The performers manage, with a minimum of gestures, to create energetic fields that link their bodily presence to very powerful and almost palpable mental ones.
Date: 22/05/2018 Thomas Hahn dansercanalhistorique.fr
BAGNOLET
Excerpt from performance material performed by Laura Siegmund: https://www.youtube.com/watch?v=EZzlcE4Z0Gw
Documentation

HYPER (2017)
Synopsis & credits
"Gonna get what´s mine and wild horses couldn't take it from me. Papa says that I'm a golden child and the whole world's gonna fall at my feet. It's all coming to me." Nathalie Merchant
With her new commissioned work, HYPER, Margret Sara Gudjonsdottir holds up a mirror to the hyper visual and rapid society we live in today, by dwelling on and inside the deep tissue, both of this very palpable reality and of the bodies living within it. Performed by four dancers of the Cullbergbaletten ensemble, the work portraits the essence of the grand human drama as a cry from the body. Emotions flush through this body without a filter, allowing the viewer to experience extreme sensorial states through the bodies of the dancers. The performance silently creeps under the audience's skin, sliding around their inner spaces and confronting the surface as a gateway into what lies beneath and beyond our superficial facade. A disarming performance in its crisp stillness, the work offers access into the healing aspects of examining and confronting the inner reality of the de-bordered body, providing an alternative reality of the physical pleasure and pain that comes with diving into the HYPER states. 
Choreography: Margret Sara Guðjónsdóttir/Music: David Kiers and MSG/Lighting design: Martin Beeretz/Dancers of Cullberg Ballet: Adam Schütt, Anand Bolder, Eleanor Campbell, Vincent Van der Plas. Produced by the Cullberg Ballet
Reviews
Cullbergbaletten's "Hyper" is ambiguous and impressive, 
Cullbergbaletten's "Hyper" is a remarkable, compelling masterpiece and a rumination on the "wired" nature of modern life. It is not to be missed, writes Örjan Abrahamsson. While watching the performance I am struck and fascinated by Margrét Sara Guðjónsdóttir 's choreographic consistency. This impression lingers after the curtain falls, as does my awe at the impressive concentration of the four dancers. I'm also left mildly amused, vaguely bored, and pensive – but not particularly interested, let alone moved. It is only later, as I make my way home – alone, having parted ways with my companion – that the performance's magnetic force begins to sink in. Gradually, my intellect catches up with the intense, physical experience of the ballet. This makes "Hyper" a prime example of perhaps the most unique aspect of the greatest choreographic accomplishments. It takes a fair amount of time for the subconscious and the brain's limbic system to communicate the physical body's reactions to consciousness. When this connection finally occurs, the effect is overwhelming. Such is the case with "Hyper." It is shocking. Long-acting. Let's take it from the beginning.When taken at face value, "Hyper" is almost provocatively simple. The curtain rises on four dancers. Two are standing, while the other two lie on the floor. Their placement is reminiscent of a crime scene photo. Blue-white floors shimmer against a backdrop of white curtains. During the 50-minute performance, the dancers move convulsively in extreme slow motion. They are never more than three meters from their starting points, yet some small part of their bodies remains in constant motion. It is as if they are trapped in setting cement. 
Aside from four short song clips, "Hyper" is accompanied only by Tibetan throat singing – strange, discordant, and vaguely synthetic. That is all. Yet this is a hyper-professional performance. It is not without reason that Guðjónsdóttir has become one of the decade's most acclaimed and sought-after choreographers. Her work is highly conceptual, yet at the same time, it is of course fundamentally based in the human body. This dichotomy can be seen in Guðjónsdóttir 's early solo, "Soft target," (DN 14/10, 2012) which "Hyper" resembles in many respects. At the same time, it is a completely different work. Both works are based in the existential, but "Hyper" is also a chamber play about the shortcomings of social life. 
As with all significant works of art, "Hyper" leaves room for layer upon layer of interpretation. Personally, I find myself hung up on the dystopian undertones of the performance – on its questioning of how today's stressful news cycles, our inextricably wired lives, and social media affect us. Of how they affect mankind. Rather than increasing our freedom, this interconnectivity creates a lack of patience that is effectively portrayed by the physically stammering, even catatonic individuals on the stage. They also appear unable to communicate with each other. At the same time, Guðjónsdóttir offers hope. She demonstrates and reminds the spectator of the sensational physicality of the human body, and, if only we are attentive enough, of its unmistakable presence. In the best case scenario, it is only when we see and recognize our own (and contemporary society's) spastic condition that we can "chill out," relax, and be freed. In short: "Hyper" is a stunning, captivating masterpiece. It is not to be missed.
01.03.2018 Örjan Abrahamsson, Dagens Nyheter, Stockholm
Rehearsal trailer: https://www.youtube.com/watch?v=-5lqZSERWks

PERVASIVE MAGNETIC STIMULI (2018)
Synopsis & reviews
One does not become enlightened by imagining figures of light, but by making the darkness conscious.
C G Jung
In this latest work for 3 dancers, Guðjónsdóttir opens up a new and unexplored realm of her choreographic methodology and deepens her distinctive and innovative performance aesthetic even further.
PERVASIVE MAGNETIC STIMULI serves as a doorway into the sub- and unconscious. Populated by instincts and archetypes, C G Jung saw the Collective Unconscious as an unconscious field that transcends the personal psyche and having a physical home localised anatomically in the subcortical centres, the cerebellum and the spinal cord. The onstage spectacle and its supporting methodologies represent a realm where appearances and consciously motivated action are not the lived reality of our lives. Forces equally ancient as current and far greater than all of us are explored through a  language which is marked by an infinite presence that reveals and pervades its environment in the same moment.
Concept- choreography- direction: Margrét Sara Guðjónsdóttir/performers/choreogrpahy: Johanna Chemnitz, Laura Siegmund, Suet-Wan Tsang/music: Peter Rehberg/costumes & set design: Margrét Sara Guðjónsdóttir/light design: Margrét Sara Guðjónsdóttir and Martin Beeretz/production management: Elena Krüskemper/Lokal/ Photos: Zeina Hanna, Ev Schmidhuber/International/Distribution: Something Great/Funded by the Hauptstadtkulturfonds Berlin. Coproduction: Inkonst Malmö, WP Zimmer Antwerpen.
Reviews
As I searched for images meanings and content to hang on to, I was left adrift, slowly streaming away from my query, my desire and expectation to find something beneath the surface. This piece becomes a canvas, not a white canvas, but a canvas of fields and energies which set the conditions for a journey to unfold…But this is not just any canvas. As it shapeshifts, Pervasive Magnetic Stimuli allows itself to be what it says it will be: pervasive. Not invasive, but pervasive. My humble advice: Let it do what it has to do. And if you can't, it most probably will do what it has to do anyway. How or when? That's for no one to know and each to find out. The collective unconscious has been conjured, but have no fear, we are all here: witnessing, calling, dreaming.
Chris Gylee, International Notice 1rst. november 2018, http://internationalnotice.org
I wonder: Whose unconscious is being shown to me as I melt into my chair and pour over the stage of Pervasive Magnetic Stimuli? The choreographer's? The dancers'? The person's sitting next to me? My own? What projections am I throwing into this cave?…I am addressed, but I cannot access the faces that I see: they are elsewhere, intoxicated by an energy I cannot touch, an energy I merely savour through the glossy, trance induced look in their eyes…And then I realize: I am being taken. We are being taken. Taken under. We are being taken under as Pervasive Magnetic Stimuli break the mirror, and for a split second allow us to have a glimpse at what lies beneath the surface of our expectations.
Mariana Nobre Viera, International Notice 1rst. november 2018, http:// internationalnotice.org
Documentation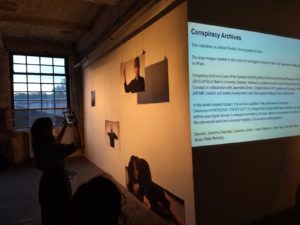 MIXED MEDIA INSTALLATION – CONSPIRACY ARCHIVES (2018)
Synopsis and credits
Using Mixed Reality, an archive is created of the studio processes of
choreographer Margrét Sara Guðjónsdóttir in creating her 2017 performance Conspiracy Ceremony – HYPERSONIC STATES. This intense and powerful choreography was made from many hours in the studio working with reflective somatic (bodily) practices. The deep and meditative quality of the work makes it a fascinating archiving challenge: how is it possible to archive the dynamic, moving meditation of the dancers? We experimented with archival design prototypes using 2 different Augmented Reality browsers intended to convey some of the qualities of Guðjónsdóttir's work. This is an example of research that has philosophical, technological and performative qualities.
An artistic research from the Living Archives Research Project at Malmö University. A  collaboration between: Professor in philosophy  Susan Kozel, choreographer Margrét Sara Guðjónsdóttir, Screen dance maker Dr. Jeannette Ginslov, computer specialist Keith Lim and Daniel Spikol. Dancers: Johanna Chemnitz, Catherine Jodoin, Laura Sigemund, Marie Topp, Suet-Wan Tsang. Composer: Peter Rehberg. Photographer: Jeannette Ginslov.
Links to find further information on the project and publications 
https://livingarchives.mah.se/2018/12/conspiracy-archives/
https://nivel.teak.fi/adie/conspiracy-archives/
Documentation